Standardized Exhalation conditions
Lung dynamics, and its impact on the emission of different species, is extremely complex, and not known in detail. It is a common consensus among the scientific breath research community, that standardizing the exhalation conditions is an essential step to eliminate a known source of potential confounding factors.
what is exhalion?
EXHALION is a real-time breath analysis interface that guides the exhalation maneuver in the metabolic analysis of breath.
It collects the flow exhaled by the person trough a disposable spirometer antibacterial filter, stores and displays the data in real-time:
Exhaled pressure

Flow rate

Total exhaled volume

CO2 profile
GUIDE
The exhalation maneuver in metabolic analysis of breath.
STANDARDIZE
Chemical breath analysis with SESI-MS or any other system.
MEASURE
The exhalation profile under any analysis specific conditions.
EXHALION is capable of working autonomously and perform a basic breath analysis.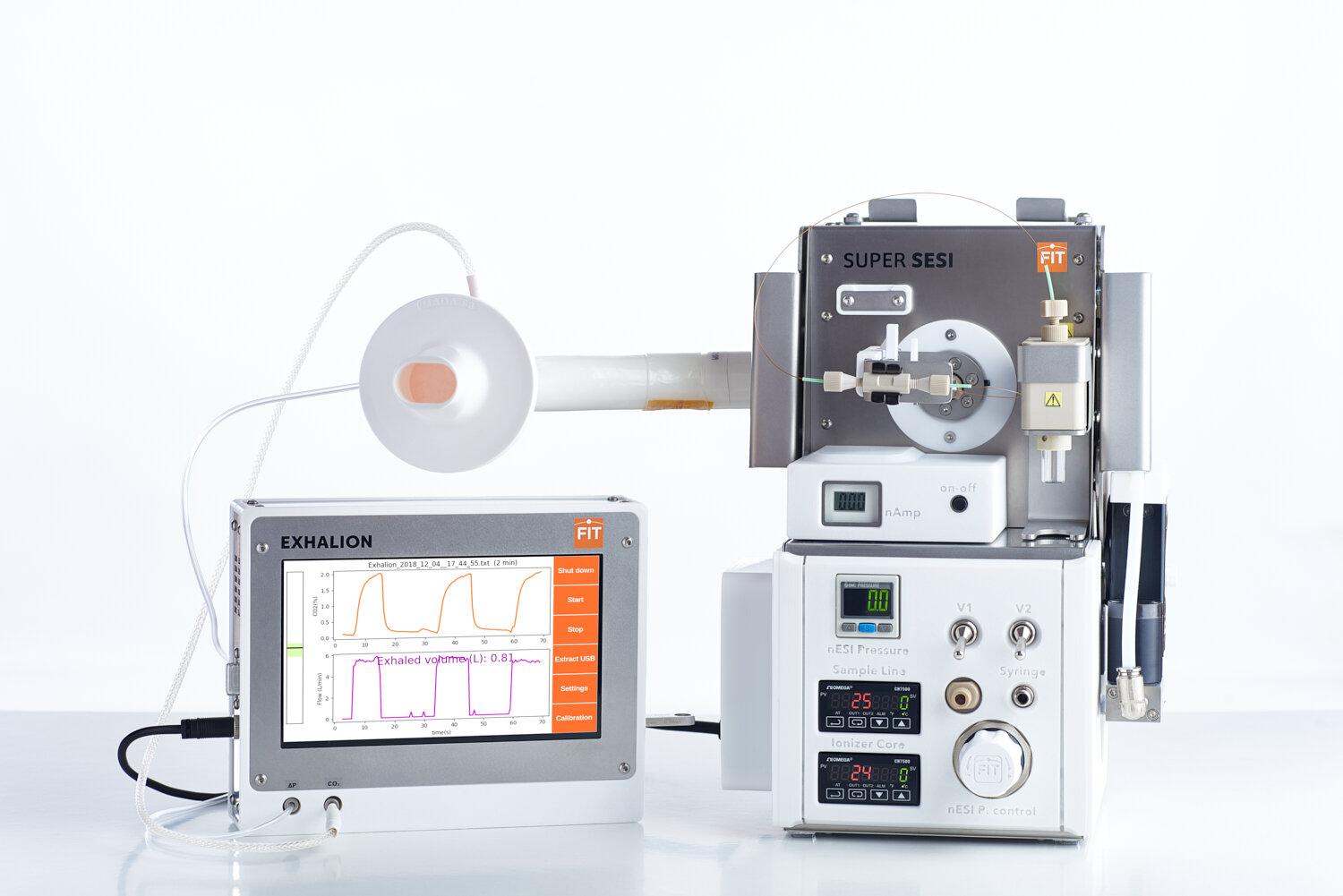 As a SUPER SESI gadget, EXHALION standardizes breath analysis.
WITH ANY OTHER ONLINE SYSTEM
The output interface of EXHALION enables it to work with any other breath analysis instruments.
COMPONENTS
EXHALION is comprised of:
TOUCH SCREEN to display real-time data. It is protected by a surgical steel casing.

MOUTHPIECE to exhale breath. Is connected to the casing with tubes. We have three different types:
Stand-alone mouthpiece to use EXHALION autonomously.

Mouthpiece for SUPER SESI to coupled to SUPER-SESI-MS.

Customized mouthpiece for your own online breath analysis system.
FEATURES

Flow & Co2 Measurement
EXHALION features a display to view real time measurements of exhaled flow and CO2 concentrations.
It creates a .txt file with the time evolution of the measured data that can be esaliy extracted in an USB flash memory.

cleaning
EXHALION is designed to reduce contamination.

The mouthpiece can be easily disassembled, immersed in solvents, and cleaned.

It is compatible with standard spirometer antibacterial filters.
hygiene & SAFETY
The EXHALION mouthpiece is autoclave-able.

It is entirely made of passive components, not incorporating any part with electric power of active heating.